Post by themavericks on Nov 22, 2021 16:56:51 GMT
-Basic Information-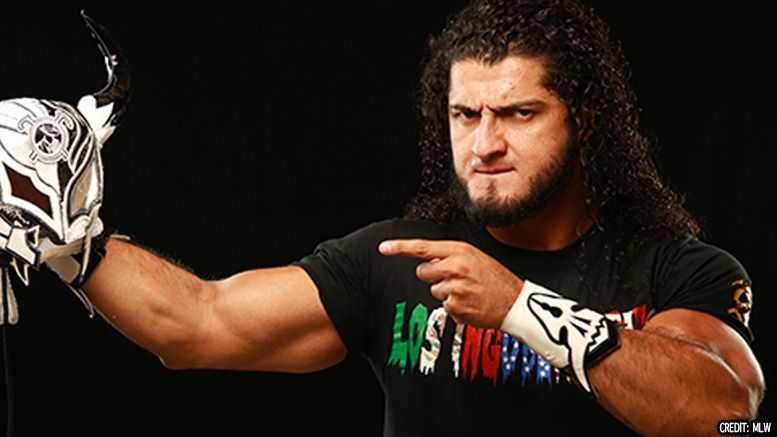 Ring Name:
Kain Reyes
Real Name:
Robert Garcia
Aliases/Nicknames:
"Hot Stuff", The "Kyoken" (Japanese for "Rabid Dog")
Billed From:
Sleepy Hollow, NY
Height & Weight:
6'0 & 210 lbs.
Date of Birth:
09/29/1997
Picture Base:
Ezekiel "EZ" Reyes (Promos)/Rush (In-Ring)
(Promo look)
-Gimmick Details-
Alignment Detail:
Tweener with Face Pop AKA "Chaotic Neutral"
Gimmick Description:
The hard-fighting, hard-traveling journeyman wrestler.
Brief Biography:
Kain is a childhood friend of Jacob Striker and Ryo Sakazaki, even training alongside them at the "War Room Dojo" as a student of Stephanie Matsuda-who often questioned why Kain was there as he never took the training seriously.
In reality Kain had proven himself to be a natural, quite gifted in his ability to not only dish out damage but also absorb it just as well. After he finished training, Kain always tried to set himself out as the fun-loving one of the group..but after seeing the recent happenings in the lives of his friends, he's adopted a slightly more harder style and look.
He's still the same smartass asshole from Sleepy Hollow, but now he's taking things just a bit more seriously.
General Wrestling Attire:
Dual colored wrestling trunks (usually black on white or vice versa normally) with black wrestling boots and knee pads in the same style as his trunks. At times, he wears one of his group's t-shirts to the ring or he'll break out the "outfit" for big money matches.
Entrance Theme:
(Singles): "Never Gonna Stop" by Rob Zombie
(Faction): "Band of Brothers" by Hellyeah
Entrance Description:
(WIP)
Wrestling Style:
"Queen's Road"-style Lucharesu.
-Moveset-
Basic Moves:
1. Corner knee strike
2. Multiple kick variations;
--Super
--Enzuigiri
--Rolling wheel
--Roundhouse
--Running arched big boot
--Shoot
--Spinning wheel
--Slingshot drop (usually through ropes)
--Single leg basement drop
--Triangle drop
--Calf
--Roundhouse
--Low corner drop
--Soccer
--Soccer to the head of a kneeling opponent
3. Multiple suplex variations;
--Belly-to-back
--"Brooklyn Bomeye" (Exploder, sometimes while applying a wrist-clutch or form the top rope)
--High-angle belly-to-back
--Northern Lights
--Overhead belly-to-belly
--Release German
4. Springboard dragonrana
5. Dragonrana
6. Chest Chop
7. Dragon sleeper (also does a hanging version)
8. Tilt-a-Whirl backbreaker (not as good a Ryo does it though...damn it)
9. Fujiwara Armbar
10. Cannonball Senton
11. Inverted somersault headscissors
12. Lariat
13. Phenomenal Forearm
14. Lifting DDT
15. Cross armbreaker
16. Shining Wizard
17. Triangle armbar
Signature Strikes:
(List Here)
Signature Moves:
1. The "Hot Shot" (Fireman's Carry transitioned into a split-legged Sitout Powerbomb)
2. "Drill Kick" (Corner shotgun kick)
3. Guillotine choke
4. "Ups and Down" (Sitout running powerslam)
5. "Blitzkrieg Bop" (STO backbreaker followed by a reverse STO transitioned into an arm triangle choke)
Finishing Maneuvers:
1. The "Ace of Spades" (Go 2 Sleep followed by a soccer kick to the opponent's chest)
2. The "Twist of Funk" (Jumping side slam into sitdown facebuster)
3. The "Gotch Special" (Kimura Lock)
-Additional Information-
Personality Details:
Kain is a very focused person who both enjoys his work and takes it seriously, he lives for the thrill and for his chosen "art"-but not to the extents that his other friends from the Hollow do.
Outstanding Traits:
Incredibly agile and tough, has a weird talent of the more frustrated he gets-the more focused he gets. Can absorb a lot of punishment (Jimmy Havoc is a good example of this trait)
Wrestling Accomplishments:
None as of yet.
Other Accomplishments:
None as of yet.
Supporting Cast & Affiliation:
Chris Slayton (his boss), the members of Urahara House Wrestling Office, & others.
Social Media Handles:
-Manager Information-
Manager Name:
Chris Slayton
Manager Disposition:
A very focused and dedicated businessman, Chris has transitioned rather effortlessly from being an active in-ring wrestler with roughly twenty years of experience into a cunning mastermind (however he is nowhere in the league of his more infamous older siblings in terms of sheer *BASTARD*ness).
Tendency To Cheat:
If the situation requires it, he's not shy.
Picture Base:
Chris Jericho (AEW vintage)
Additional Personality Details:
Chris is a driving force behind his people, he knows when to use them and when to hold them. Most importantly he knows when they need to be complete and utter bastards!
-OOC Information-
Best Means of Contact
(List Here)